How I Grew My LinkedIn Audience in Only Two Weeks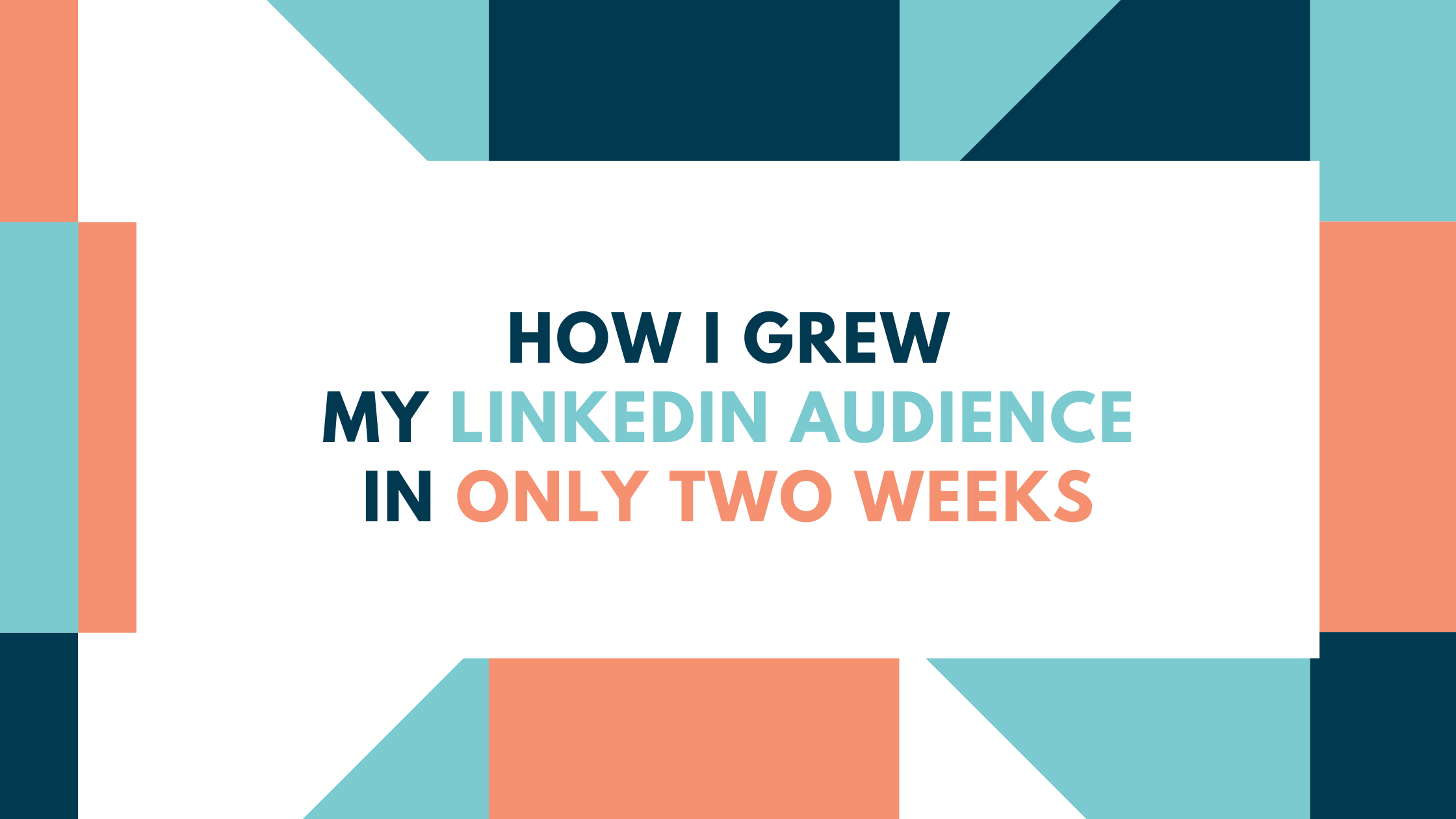 How I Grew My LinkedIn Audience in Only Two Weeks
A few days ago, I posted this tweet about my LinkedIn improvements, which had some engagements.
After using LinkedIn seriously for one week:
• 225 new connections
• 453 profile views (+319% since last week)
• 45 169 post views and 689 reactions

And I'm not talking about all the messages I received!

Thank you @DThompsonDev for making me realize how LinkedIn is useful 🙏

— Johan Rin (@johanrin) November 15, 2020
Some of you contacted me and asked me how I proceed to increase my visibility on LinkedIn. That's why I decided to write this blog post to share everything I did.
In this post, I'll explain what I thought LinkedIn was and what changes I did after having a better understanding of what it could be. Everything, step by step.
Let's begin.
My idea of LinkedIn before…
I created my LinkedIn account in 2011, and I never used it seriously until 2020. During that time, LinkedIn was for me another social media account I had to manage. My profile wasn't complete, and I only used the following sections:
Introduction — default background photo used
Experience — no details on the experiences
Skills & endorsements — less than ten skills listed
Education, Licenses & certifications, Languages, and Interests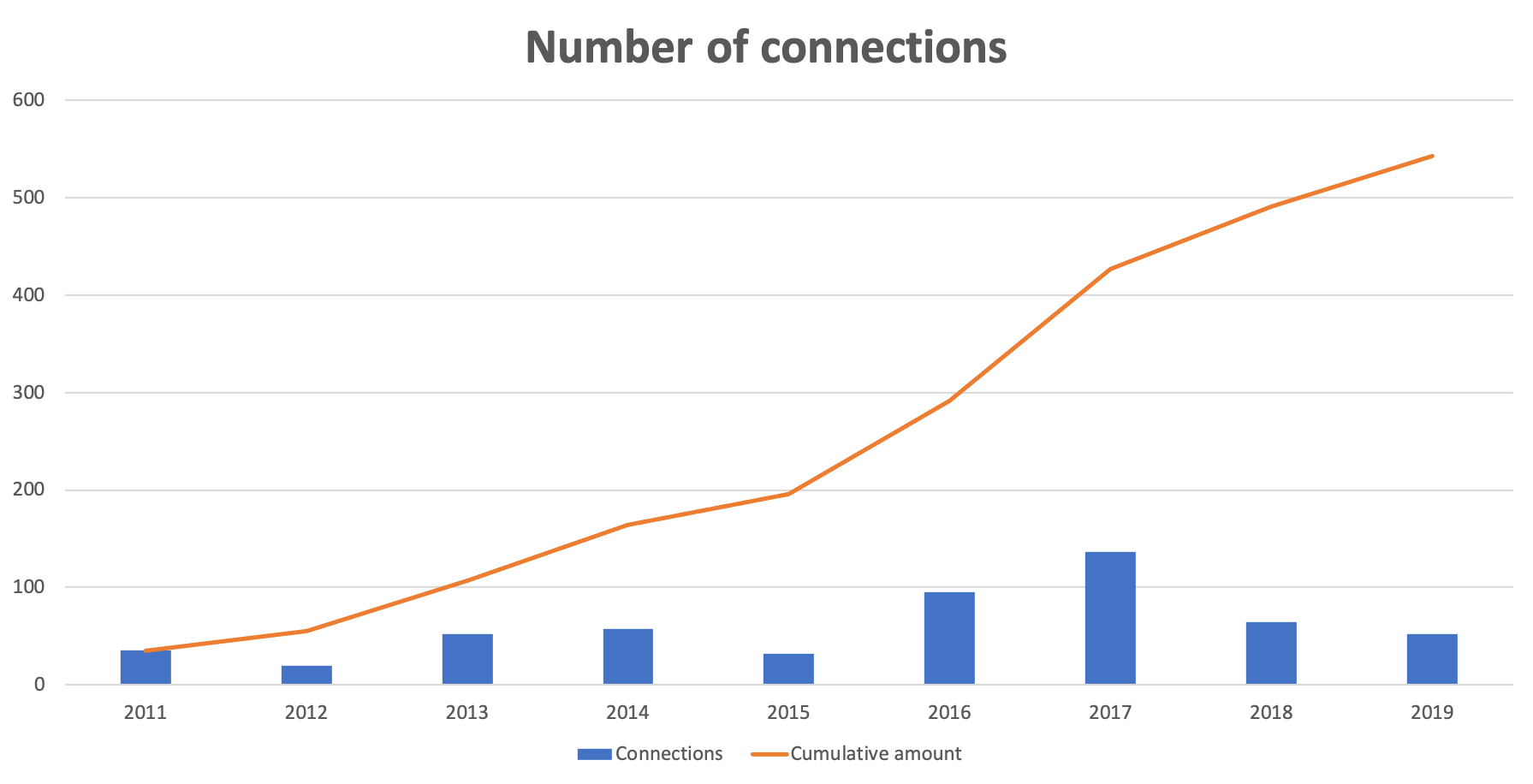 From 2011 to 2019, I had only 60 new connections on average by year. But if we're taking a better look at it, we can notice it was essentially classmates, colleagues, customers I worked for, or sometimes recruiters that approached me.
LinkedIn was basically another address book. Sure, a professional one, but I didn't do anything with it!
… I watched the series
End of July, Danny Thompson released on YouTube a series about How to Get a Job using LinkedIn. I didn't watch the videos directly, but I knew I'd need it in the future, so I subscribed to his YouTube channel and saved the videos.
It's only in November that I used the videos to improve my LinkedIn profile. Let's see what changes I made in the next sections!
My new profile
Introduction section
I created a new banner, especially for my LinkedIn profile with Canva. For those who don't know this platform, Canva is a graphic design platform you can use to create visual content. You can start for free, and it's easy to use!

I wanted something simple and professional-looking with only the most essential things: name, titles, and blog URL — simple but straight to the point!
About section
I added my About section, explaining who I am in a few sentences — elevator speech.

I tried to write this section in a "short and sweet" way by also mentioning my keywords: SAP, Microsoft Azure, web development, and IS transformations.
Featured section
Before watching Danny's videos, I didn't know LinkedIn had this feature!
At first, I had no clue how to use it. But after some consideration, I choose to showcase my posts presenting my most viewed blog posts.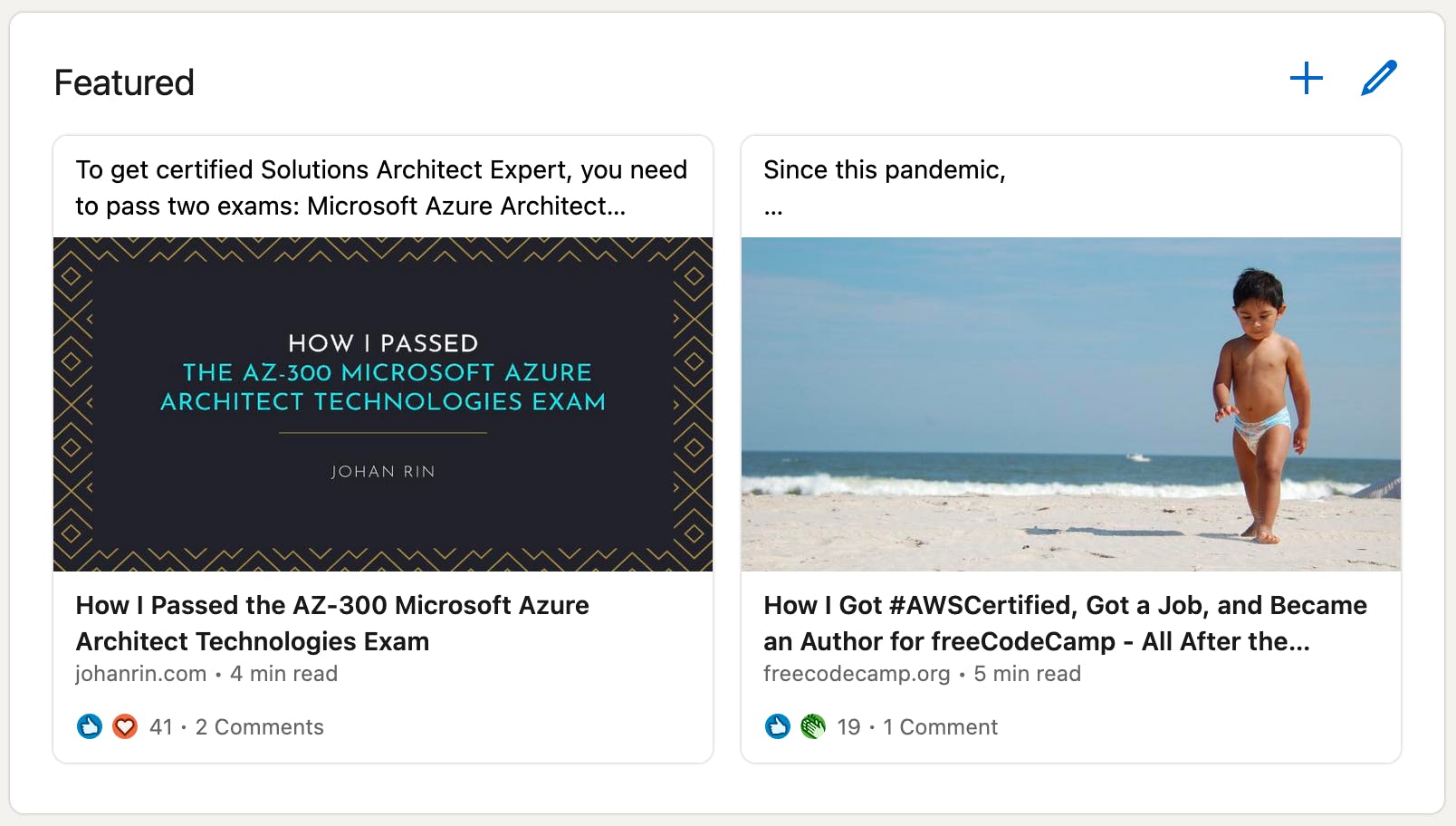 The first blog post is about how I passed my Microsoft Azure Architect Technologies Exam (AZ-300), which was the first step to become Azure Solutions Architect Expert Certified. By the way, I passed the certification one month after passing the AZ-300 exam!
About the second one, it's another blog post I wrote for freeCodeCamp explaining my achievements during the pandemic. It's an explanation of one of my previous tweets:
Since this pandemic

1. I started the #AWSCertified Challenge and passed 3 certs
2. I found a job
3. I contributed to Amazon #DynamoDB SDK example documentation
4. I became an author at @freeCodeCamp
5. I started the #AzureCertified Challenge and passed 1 cert

— Johan Rin (@johanrin) May 28, 2020
Experience section
Because this section was almost empty, I added details for each of my experiences by explaining my main achievements in two or three bullet points.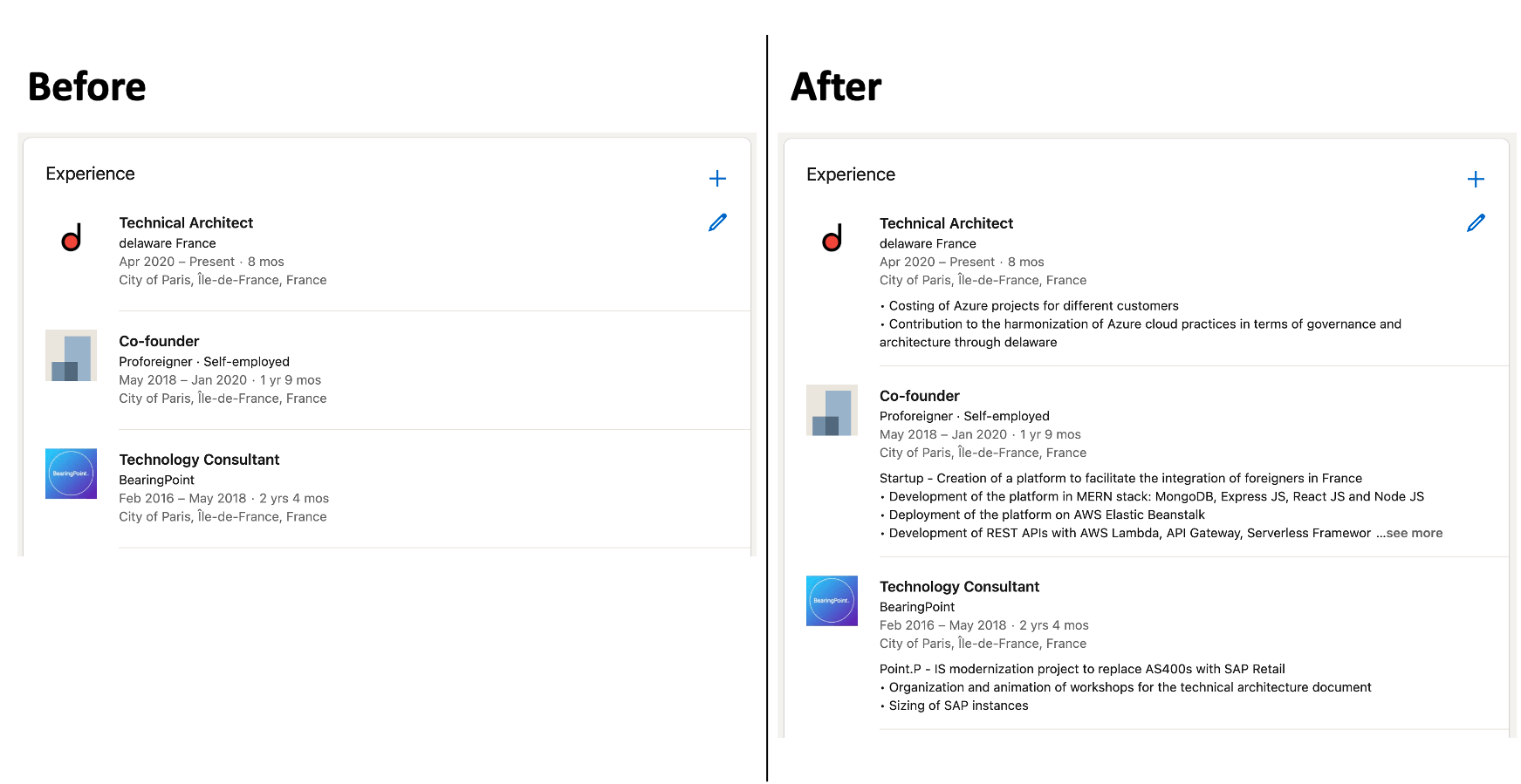 In this part, I tried to summarize what I did with only the most essential information recruiters have to remember.
Skills & endorsements
Another section almost empty! I completed with more skills and went from less than ten skills listed to 42… 😄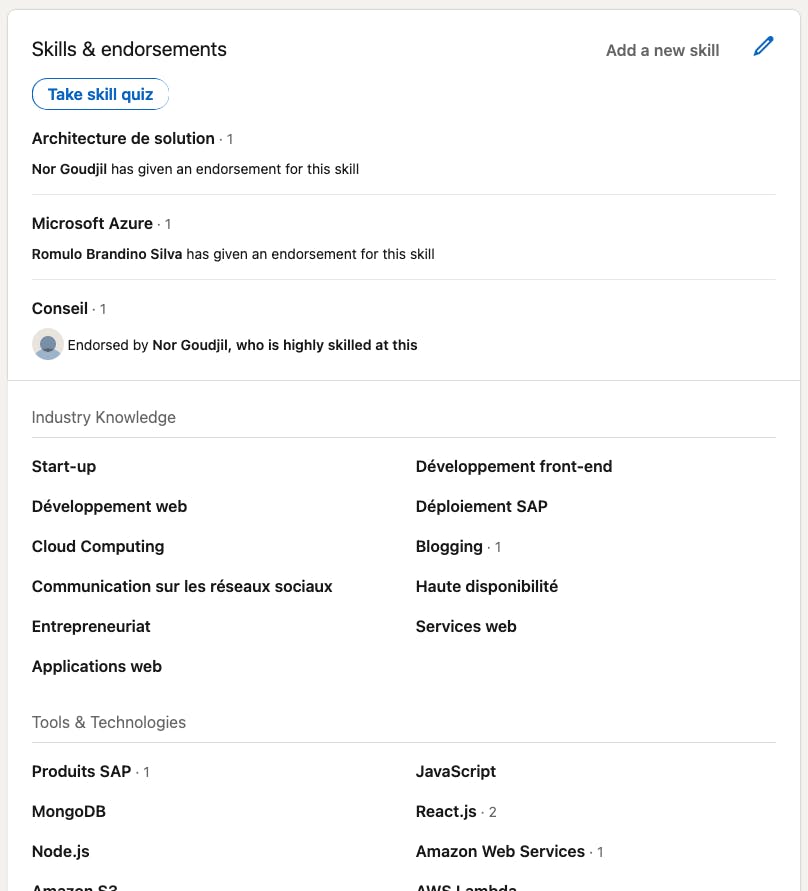 How I grow my LinkedIn audience
Once I updated my profile, I knew it wasn't enough!
I learned from my Twitter experience that you need some credibility to have your voice hear on social media. So I started to post content on LinkedIn, a mix of old tweets and new posts. My criteria to choose old tweets were simple: I only posted things I could imagine myself saying in my office.
And guess what? The magic happened:
I posted only eight times on LinkedIn in two weeks, and here are my three best posts: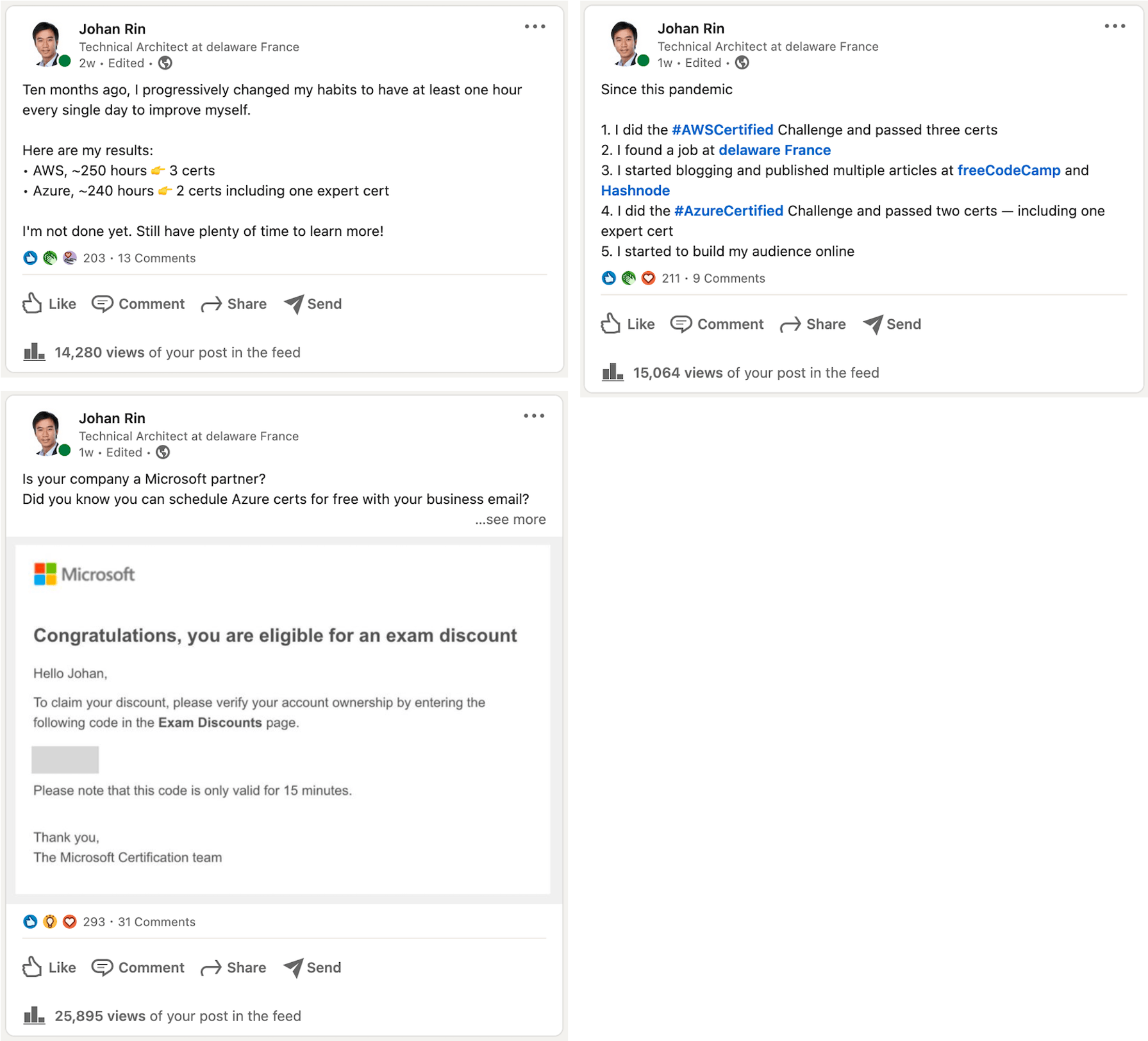 After these posts, I started receiving a lot of connection requests, and by also promoting my profile on the Cloud community and Twitter, I got the following results: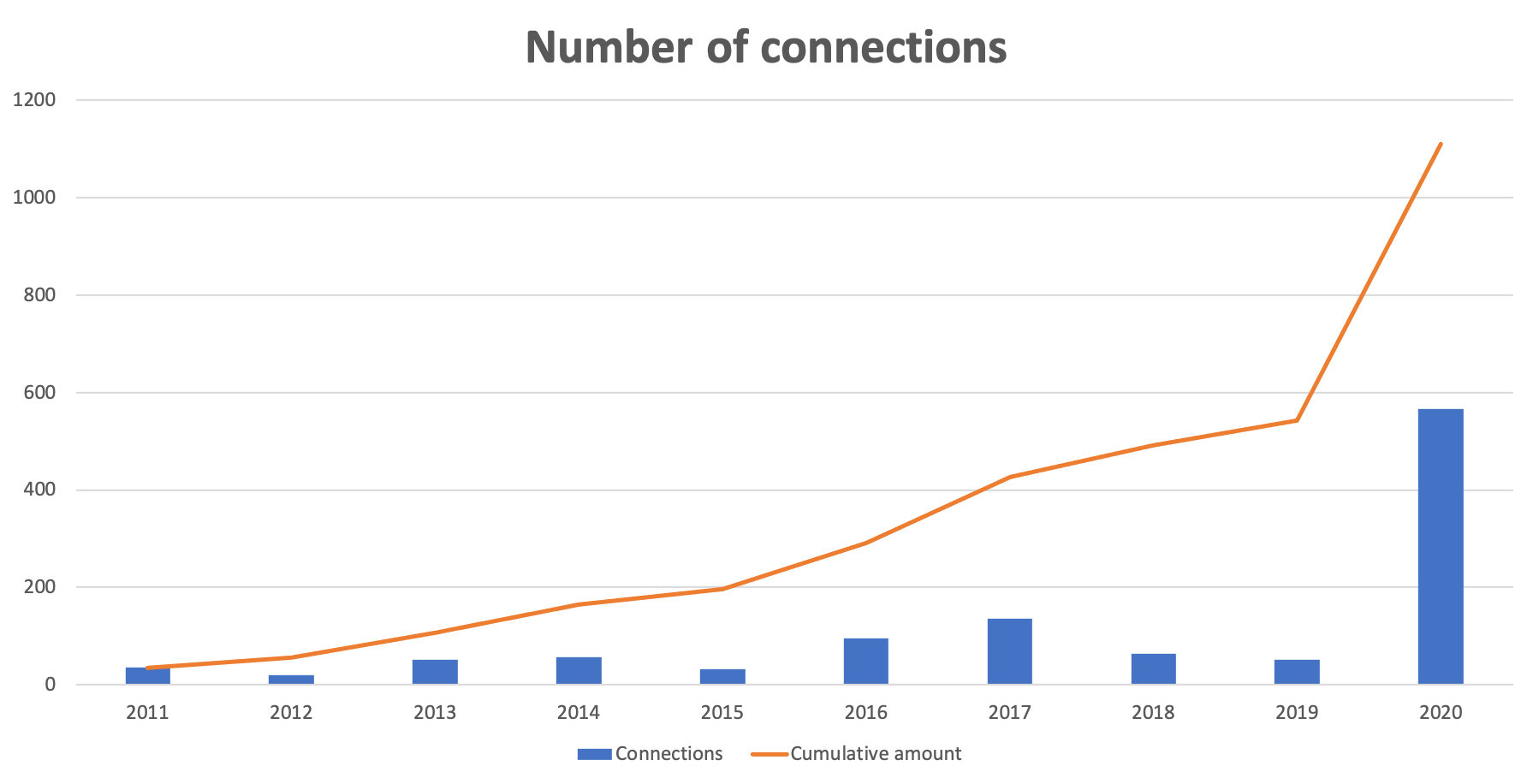 Five hundred sixty-seven new connections for 2020 — most than 2011-2019 cumulated!
Conclusion
After almost nine years, I finally understood how powerful LinkedIn was — better late than never! But it's only a beginning. I'm not pretending to be an expert in only two weeks. That would be unreasonable! But I understood that LinkedIn could be an ally and help me in my career. And to give you something concrete, I was contacted by FAANG companies during this blog post's writing. I told you. It works. But you have to be ready and know how to show yourself in the best way. That's what social media is for, right?
That's it for me! I hope you learned something! If you have any questions, find me on Twitter and feel free to ask me anything 🙏